Live at the 'Tuesday Night Cafe' in Little Tokyo, Sept. 7! Watch Online!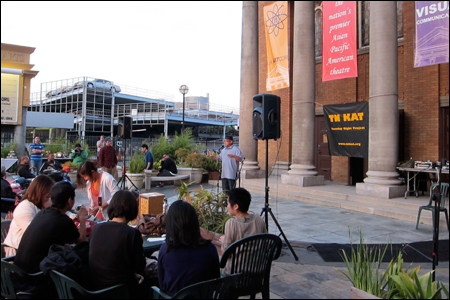 We'll be performing at the Tuesday Night Cafe show, outdoors in Little Tokyo, on September 7. It's not an an actual cafe per se, but the name of a twice-monthly variety show that has been going on in Little Tokyo for over a decade, at the Aratani Courtyard, in front of the Union Center for the Arts (120 Judge John Aiso Street), which is the home of East West Players theatre company. We'll be one of the featured artists representing the Filipino American Network and FilAm Arts, who is staging their Festival of Philippine Arts and Culture (where we played in 2004 and 2005) this coming weekend.
This isn't ESB's first Tuesday Night Cafe appearance — we did an acoustic set at one in the Spring of 2005, but this will be our first TNC appearance at the Aratani Courtyard (as the 2005 show was indoors at SIPA in Historic Filipinotown).
We'll be doing a short 3-song set at the show, which will also be webcast live on the Internet! So if you're unable to come down to Little Tokyo, click on to http://www.tuesdaynightproject.org/watchlive/ at 7:15 p.m. PDT and catch our set (scheduled to start at 7:54 p.m. PDT; 10:54 p.m. Eastern; 4: 54 p.m. Hawaii; Wednesday 10:54 a.m. Philippines)!
This show will be an interesting show for the Soul Barkada; it'll be the first with our new bass player Mario Daley, whom we met at last month's Soul Barkada Lounge jam at the Downtown L.A. ArtWalk, and also the first with fill-in backing vocalists, as Louie and Lisa Ulanday have an important rehearsal to attend. This time around, I have my friends Quincy Surasmith (who plays with me at the twice-monthly MidTones jam session in Chinatown as well as sings backup for Scott Tang) and Lorna Holt, who sings with me in the St. Agatha Gospel Choir. As always, people in the Soul Barkada are all friends (or friends of friends) of mine!
If you're coming down to Little Tokyo, take the Metro Gold Line to the Little Tokyo/Arts District stop. Our venue is just one block west of the station!